This past year has had its many ups and downs, many celebrities have outed themselves as racist, Trump is still our president and Kanye has disappointed us for the 10th year in a row? Can't even keep track. But amidst all this negativity there has been quite a few positive defining moments for Black culture in 2018 and below I would like to highlight a few faves.
Black Panther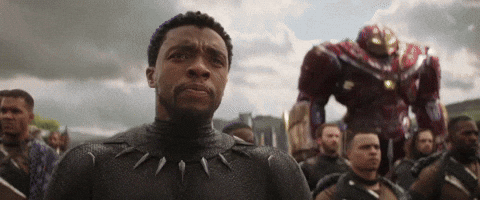 Yes, Black Panther was, in fact, this year (2018). Released in February, this Black Marvel film gained a cult following almost immediately and rightly so. The movie was a milestone for black hollywood as it was the first predominantly black cast in a Marvel film. The plot is one most are familiar with by now, a fictional country, Wakanda is founded by five African tribes warring over vibranium thousands of years ago. One warrior ingests the metal and gains superhuman abilities, becoming the first "Black Panther". The role of the Black Panther is passed through generations and with the use of Vibranium the country becomes highly technologically advanced, isolating itself from the world by disguising as a third world country. Black Panther falls under the artistic movement of Afrofuturism, a movement that challenges the limits of white imagination by prophesying the existence of black people in the future and their advancement in technological and scientific feats. Besides this revolutionary artistic movement, Black Panther also draws parallels to themes in black history like the Civil Rights Movement. T'Challa assumes a non-violent stance like Dr. King while Killmonger is much more radical like Malcolm X. The film reaches into the past by touching on parallels in black history while simultaneously projecting it's characters into a fantastic Black future- which is why it will be forever marked as a defining moment in Black Culture.
All The Stars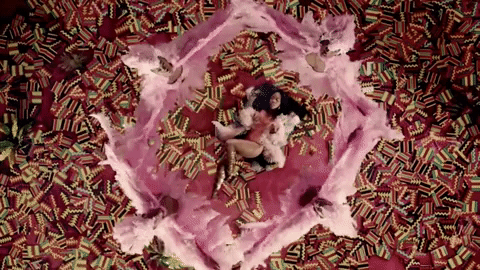 Along with the Black Panther film came the soundtrack that was equally iconic featuring our favorite black stellar artists including Khalid, The Weeknd, Jorja Smith and many more. One of the most memorable songs from the soundtrack is "All the Stars" performed by Kendrick Lamar and SZA. Besides metaphoric lyrics that symbolize desire for closeness to the ancestors, the images in the music video especially highlight appreciation of African civilization. The first shot we see is an image similar to one in Egyptian mythology. Kendrick, standing like Moses, is arriving as the ferryman of Hades, who carries souls across the Styx, river to the hell. The next scene shows young children in red caps and Kendrick among them, the red is a South African symbol for mourning. The video then brings us to the hook where SZA is singing and twirling amongst stars while singing the lyrics "All the stars are closer". This is interpreted as someone of African descent that wishes to feel closer to their ancestors and look towards the future while still holding to the memory of the past. Later scenes with SZA depict her celebrating cultures from the Caribbean to Ethiopia and the vast diaspora of African Civilization.
Dear White People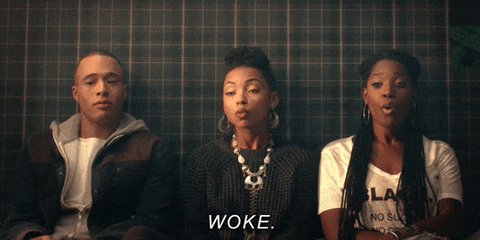 In 2018, Dear White people was rebooted for a second season on Netflix. This season, led by the biracial activist Samantha (Logan Browning), addresses even more social ills that weigh on the fictional Winchester campus as well as real racially mixed University campuses across the nation. Without spoiling, this season touches on gun reform, police brutality, peaceful protest as well as violent, counter protests, cultural appropriation ("you're elvis and I'm Chuck Berry" -Sam. Oof) but also addresses the value of friendships, relationship with family, sex, issue of abortion and mental health. The central focus of the first season was an incident where a campus cop pulls a gun on an unarmed black student, the second season deals with the repercussions after the initial outrage from the incident once the campus "returns to normalcy". What I love about this season is how it realistically depicts how these issues are treated, the media covers when it's fresh and "trendy" but in reality those involved still have to handle the effects of an issue months after it's considered "relevant". Another familiar topic that this season covers that isn't discussed much is racist alt-right internet trolls. This is an issue many activists on social media encounter ( I have encountered my share) of grown people firm in their ignorant beliefs that spew slurs and insults from behind a computer scene. We watch and applaud Samantha as she cleverly claps back to the trolls but witness it take a toll on her own mental health, sending the message that we can't change every ignorant person's mind at the cost of our own sanity. Overall, the discussions this season of Dear White People started were needed for 2018.
ApeS**t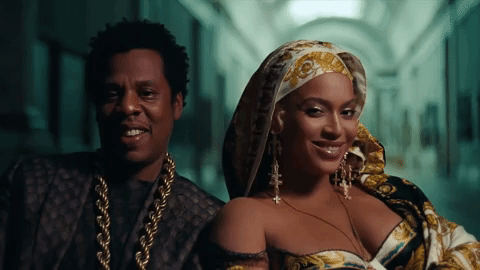 The Carters really blessed us with this one. This Past June, leading their joint album "Everything is Love" Beyonce and Jay-Z debuted this hit single that shook the core of art history's erasure of black culture. For the music video the incredibly wealthy couple/duo were able to completely rent out The Louvre Museum, not just rapping about their "Lams" and 6 figure checks but literally showcasing their wealth. The first shot following ones of famous paintings the camera focuses on Mona Lisa, as the intro music progresses the shot widens showing the two Carters turned away from the artwork almost in rebellion-painting themselves (pun intended) as the actual art and not mere spectators of white art. The following scenes show Jay-Z, Beyonce and black dancers dancing and performing throughout the Louvre in a sort of artistic defiance. One memorable scene is Beyonce and her dancers lined up in front of "The Consecration of the Emperor Napoleon and the Coronation of Empress Joséphine" by Jacques Louis David(1804), while the Empress is taking her crown, Beyonce and her backup are rightly stealing the Empress' spotlight with their artful form and moves. The inclusion of these famous art pieces in the background of black dancers is meant to highlight the obvious absence of black people in art. The whole music video is a middle finger to art history's intentional neglect of black culture and the song itself is a bop.
Michelle Obama's "Becoming"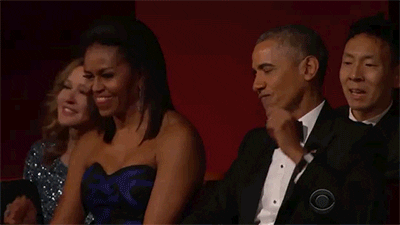 I was hesitant to include this as it's not necessarily dealing with Black Pop-culture but either way the Obamas will forever be relevant to Black Culture. Even though I have not yet finished reading Becoming (don't @ me), the emergence and instant cult following the book gained is something to discuss alone. For many, this memoir gives hope that Michelle may run in 2020 (even when she has outright said she will not but we can still hope) but what is most attractive about this memoir is the vulnerability our former First Queen displays. Michelle spreads the beautiful message that we never really grow up or "become", we are always learning and in the process of "becoming" but she also depicts herself as a regular girl that despite being born into certain disadvantages worked hard, becoming a lawyer and eventually the First Black First Lady of The United States. In her book, she discusses growing up, adulthood, college life and marriage but besides First Lady experiences she even talks about smoking pot, making out with boys, going through boyfriends and just regular degular shmegular girl stuff. And that's what makes this book so beautiful you'll cry at the thought of "oh my God I have so much in common with the First Lady". This book is especially inspiring and needed for black girls as white society and even black men constantly seek to invalidate and oppress us but Michelle proves that with grace and education we can rise above all that crap.
P.S. Full review on Becoming to come soon ;)